Work with the event organisers

For event photographers it is always good to get to know the organisers before the event and if possible have a meeting, which will give the event photographer the opportunity to ask some poignant questions regarding the event.

All events are different so here are some questions that photographer may like to ask in order that they may be able to maximise on the event.

Would you like any general photographs of the event for publicity purposes and can we have credit for these images?
Are there any dignitaries at the event for which you would like a photograph?
Is there a written time line of the events that is available?
Are there any restrictions on photography or using flash at any point during the event?
Are there any specific groups that the organisers would like an image of?
Will there be the possibility of an announcement during the event that photography is available?
Are there any other events coming up which we may be able to attend?

It is essential that the photographer works well with the organisers, as it is great to photograph an event, however it is far better to be engaged at every event that the organisers are arranging.
Return to getting started in photography here
Take your photography to the next level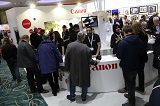 Attend The Societies 2019 London Photographic Trade Show for free*

Meet over 100 exhibitors. See all the latest cameras & photo gear.

PLUS over 40 hours of FREE seminars and demos.
Register now for your FREE Trade Show tickets.* >>> http://swpp.co.uk/convention/
Last Modified: Tuesday, 21 February 2017